Vanuatu 27. Nov - 06. Dec
 
 This is a really nice country. I flew over there from Brisbane. The trip from Brisbane is only
 about 2.5 hour.
 
 People are incredibly happy down here and they smile and wave at you when you drive by, and
 say hello when you walk past them.
 
 It is the rainy season in Vanuatu at this time of the year, and it rained a lot in the
 afternoon most of the days I was there.
 
 I spent most of my time Port Vila, where I did a lot of Kayaking and also discovered golfing.
 Great sport! I was also in the rain forest several times.
 
 There is Maleria in Vanuatu, and it is infact the number one killer down there apparantly,
 but it is relativly safe for visitors. When I was in the rain forest I was bitten by
 around 70 masceetos, and 20. - 30. times on my leg and the same amount on my arms, but
 did not get any Maleria and I did not take any anti Maleria tablettes either.
 
 The price level in Vanuatu is close to what it is in Australia and accomadation is also not
 very low priced. When it comes to prices on food etc: 450 vatu for chicken burger. 100 - 300
 vatu for bottle of water, depending on where you buy it.
 About 1300 vatu for pizza in restaurant.
 
 Bunji jumping was also invented here in Vanuatu.
 
 BTW: 100 Vatu is about 1 USD.
 
 Here are some of the pictures I got.
 
 
 
 
 
 
 
 
 
 
 
| | |
| --- | --- |
| | |
| | |
| --- | --- |
| | |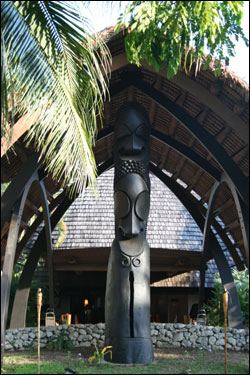 Top of page
All images and text on these pages are copyright © 2007 Alexander Sewe