Thailand 28. September - 12. Oktober

  The pros and cons of Thailand

  Thailand is a country full of contrasts and I will list some of the pros and cons
  about going to Thailand. It is not JUST a beautiful country..

  Pros:

  Thailand is indeed a beautiful country like I have already stated, the food is very good and
  cheap. You can get cheap and great hotel accommodation that are of very good standard, even
  close to the beaches (e.g Phuket). You will find some of the most amazing beaches and infact
  some of the best in the world, with crystal clear water and white sandy beaches (Krabi, Phi
  Phi). It is possible to do surfing, snorkelling and diving. When it comes to food, both
  Bangkok and Phuket you can either go with Thai food or with the more familiar western food.
  There are a lot of food chains that open up shop all over Thailand like MacDonald's etc.
  The temperature is not too bad either averaging would imagine around 20 degrees depending
  where in the country you are. I was in Thailand during the rain season / low season, but the
  temperature was very nice and it did not rain as much as I had feared. You can also catch
  some amazing architecture all over Thailand.
  
  I was in Bangkok first, where I stayed 5 days, before I went to Phuket. From Phuket I went
  on a one day tour to Phi Phi Island, which is a very beautiful island outside the cost of
  Phuket (closer to Krabi). Here are some of the pictures I got from my stay there:
  
  Bangkok:
  
  
  
  
  

  
  Bangkok zoo and safari world:
  
  
  
  
| | |
| --- | --- |
| | |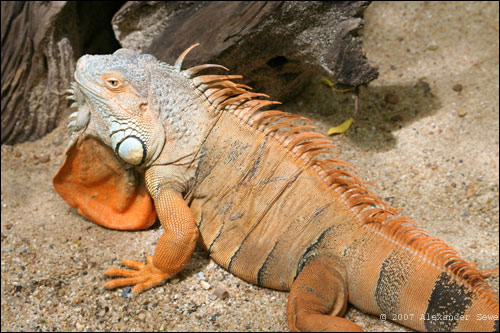 Phuket: In Phuket I stayed in a hotel close to a beach called Karon beach. And another beach called Kata beach is a couple of minutes drive away, so Phuket is all about beaches.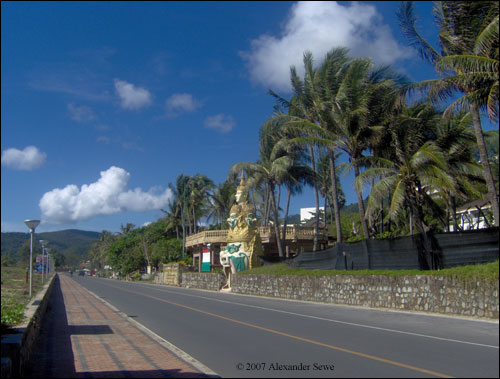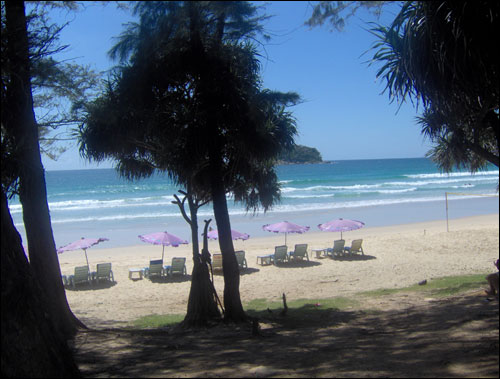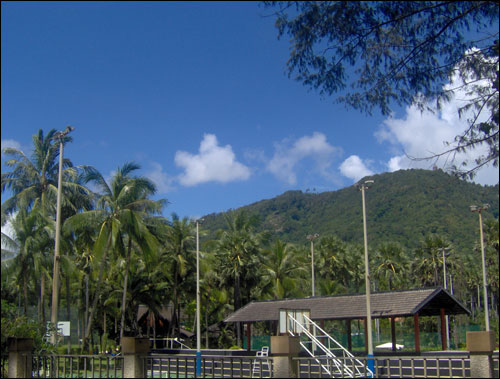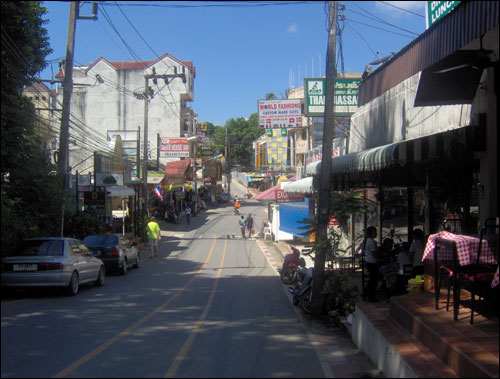 | | |
| --- | --- |
| | |
| | |
| --- | --- |
| | |
| | |
| --- | --- |
| | |
Phi Phi island tour: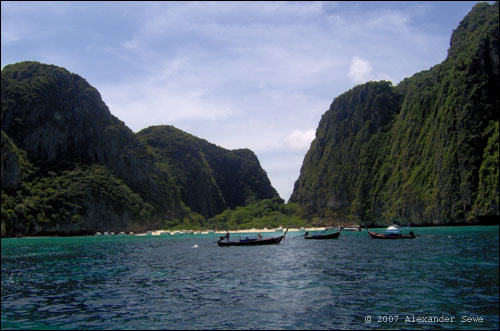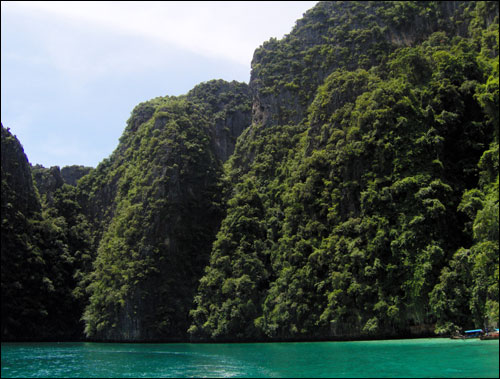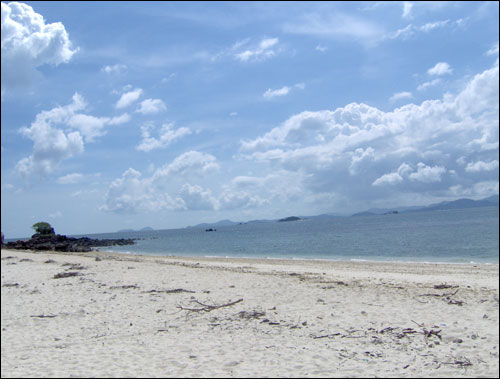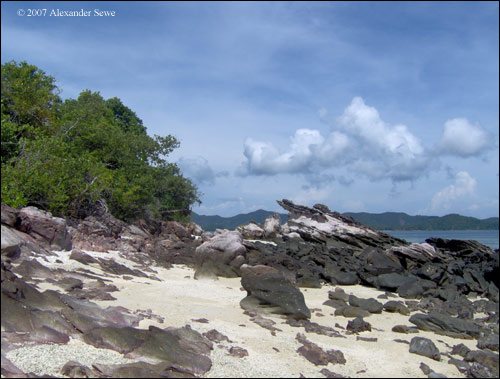 Phuket butterfly park: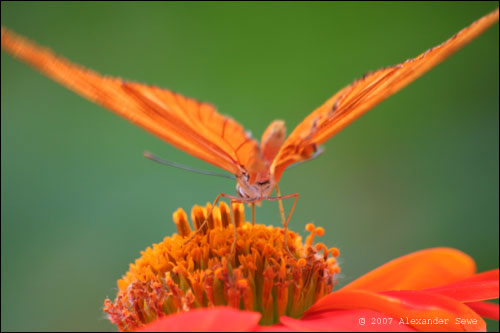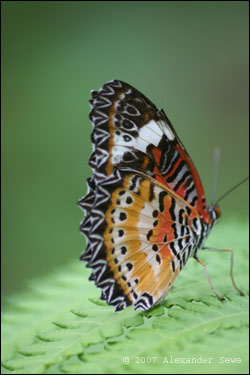 See Thailand 2 article for more picture from Phuket, Phang Nga, Phi Phi and Krabi. Cons: The country is a country with many poor people but some are rich and there is a middle class like everywhere else. If you go to Bangkok you will see people begging for money in the street, even little children down to about 5 years old are sitting in the streets begging (see picture below).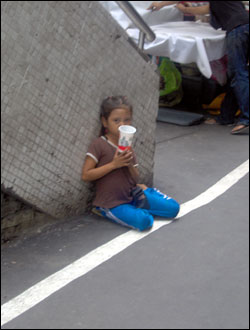 If you walk down any street, almost all the shopkeepers are outside their store trying to get you to come in to their store and buy their "fantastic" products. And anyone that has been in Thailand knows how annoying this is. The first 50 000 times you are asked if you want to buy a massage, DVD, suit etc. etc. you try to be nice and say "no thank you very much, not today", but at some point you get so fed up and just want to tell them where to shuff it. I tried a couple of times just ignoring them, but unfortunately that does not always work, they can get lightly aggressive if you do that. If this was in any other country we would call it what it is, and that is harassment. So my tip is, the first couple of days you are there, you can look around and when you get to the point when you are so fed up with the harassment, just take a taxi from A to B, and the problem is solved.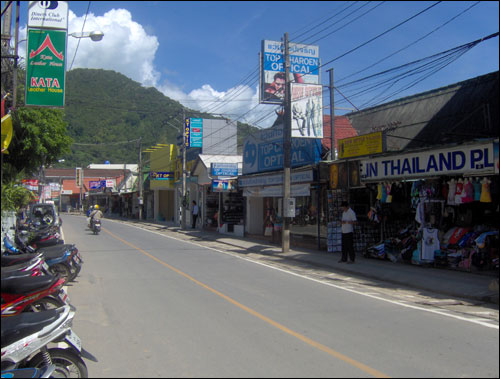 The picture above is from Phuket and here you can see some shopkeepers lined up outside their stores waiting for some tourist to come by. They have their stores open from early morning until late in the afternoon, so there is not really any good time to take a walk down those streets. You can do all your shopping in one of the bigger shopping malls (Bangkok / Phuket town), there is not a lot of harassment in the malls, and you can browse without feeling like you have to buy anything. I guess the reason why these shopkeepers do harass people like they do, is because the competition is very hard there. If you walk down a single street you can see many shops doing the same think. E.g. custom tailors, there may be 10 on one single street. So if they don't pull people of the street they are not going to sell much.. If you look at what type of store there is down there it is mostly restaurants, bars, grocery stores, custom tailors, DVD shops, internet cafes etc. Thai people seems to be very kind, but they only smile when they have to, which includes when they want to sell you a product or service or if it is in their job description to smile. If you look at people at e.g. the subway, there won't be a lot of people smiling there, you will see grumpy faces just like anywhere else in the world. There are prostitutes pretty much everywhere. There are few bars where you don't see the bar girls, which are prostitutes. It is in these bars a lot of foreigners find their wives. Which is a little sad to think about, because these girls don't love these men, they don't even like some of them, but if they can get married to a foreigner and get away from the hell it involves being in constant powerty and prostitution they will do whatever it takes. Marrying a foreigner also involves being able to provide for their entire family back home. One guy stopped on his moped and asked me if I wanted to buy cocain! In Thailand drug means death penalty, so this guy has to be pretty desperate. They sell ninja swordes, knives you name it, in the market. Even with all this bad stuff going on all around, you feel safe, because statistically foreigners are not attacked / killed very often, so it is a relatively safe place to visit. I do think that the government has to do something about the things that I have mentioned though, because it is in my opinion a huge problem, and it can affect the holiday experience for people and because of these bad things many people never go back to Thailand on vacation! So there you have the sad reality of the land of a 1000 smiles. Summing up: A nice country and nice people, beautiful nature, good beaches, if you are into wildlife, you can still see tigers, deer (rare) etc in the wild. On the bad side people harassing you to buy things all the time, which is the biggest problem (you can't walk anywhere) this country has, in my opinion. The high season (most visitors to Thailand) is in December - February. There are a lot of people coming from Australia to Thailand when they have summer holiday there in December - January. There is also a lot of people coming down from Europe to get away from the winter. So getting a hotel and airline tickets to Thailand in the high season can be a challange, unless you order a long time in advance. The hotel prices also tend to be quite a lot higher in the high season then they are in the low season. Top of page


All images and text on these pages are copyright © 2007 Alexander Sewe